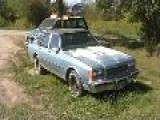 The Cheviacs are Chevy Caprice cars, and the most famous cars, owned by Dave.
beaten cheviac. a 1986 pontiac pressiane 305 that dave got in 2007. it was in a little bit better shape then it is now.
one summer in 2008 he did its first cold start. of course it had no choke. so you had to pump the crap out of it.
he pulled it in   to the shop so he can do a horn job on it. so he welded old pipes and some 85 mustang gt pipes.. 
he cut holes in the hood. now its all beaten. and trashed. severly. seen better days.
jen did skyhill with it. he got the rad from the moldsmobile he scrapped at the end of 2009. and the fan.
in 2009 the molds hasnt been driven much except for that race they had that year.
it had a bad starter it was good for like 10 minutes of use. as soon as the starter heated up by the heat of the motor
it wont start also the rad he saved. he put it in the cheviac.
"Normal" Cheviacs
Edit
A stock 1986 Caprice Classic and a stock 1983 Pontiac Parisienne. These cars have not been messed with in any way.