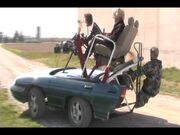 Crazy Cars are cars that do stunts like wheelies and stoppies, but sometimes they are also just for fun.
List of Crazy Cars
Edit
The Zoomina is the car pictured here, it is made of 2 Chevy Lumina's. It has a seat and controls on top like the Stupertanker and Redneck Rollercoasters. It has 4 wheel steering and is capable of doing wheelies.
Redneck Rollercoaster Sedan
It is a Chevy Cavalier with a van bench seat suspended over the hood. The gear shift steering wheel and pedals are mounted up there. It is designed to do stoppies.
Redneck Rollercoaster Minivan
A chevy astro with a V8 with the controls mounted in the back this time because the van is RWD. It is so that the van can do wheelies. The RR Minivan was formerly a Ford Aerostar, which had a V6 and a long wheelbase. Once they got the V8 Astro the Aerostar was un-modded and destroyed.
A front-drive Pontiac cut in half and with a wheel added in the middle of tha back, making a sort of reverse trike. It can do slides and stoppies. a 1989 Toyota camry v6 5 speed that dave got in 2001. it was sitting since then he reserected it 2 tims
he raced it a couple of times no door he test drivin it couple of times 4 times it did'nt start.
he raced it with his 90 toyota gts 1.6 twin cam 5 speed i love toyota's i think for my 4th car i will get a 1991 toyota celica gts with a 2.2 liter 4 cylinder and a 5 speed and a borla gt turboback exhaust and aem cold air intake
turbocharger and performance headers in winter of 2010 it wouldn't start because water in the ignition switch 
in the spring it ran then someone learned to drive it jen tought her then in 2011 dave blew the motor then jen killed it 
then off to the scrapyard   poooor poor thing