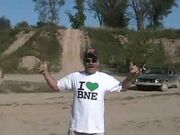 David Hugh rock is a former YouTube celebrity and stuntman, and convicted child predator from London, ON.

History
Dave Was Born in 1962 with an abusive father he said that they had to be prepared. in 1985 Dave was kicked out of the family house, and bought a new house located on 1465 Oakdale Street in London which he still owns today. Sometime in the 1980s, Dave got married, and in 1985/1986 they had their first child. Inn 1987/1988, they got their second child, Adam. In 1989 Dave bought the farm Located on 34852 Richmond street in Lucan, ON Canada. In 1993 he divorced.
Also in the 1990s, Dave claimed that he was going to claim his third child which he had with a different woman, but another man claimed that he was the father and had a happy life. Dave was angered by the man and claims that he kidnapped his son for that.
In 1999, one the original buildings on the farm was burned down because arson. Sometime between 1999/2000, Dave built a new one. In the 2000s, Dave upgraded the former landfill site with a beach and made some changes over some time prior to 2007.
In 2009, following an accident where one of his friends was injured after a failed stunt with a motorhome, Dave was exposed as a child predator, convicted as such following incidents of sexual exploitation of minors in the 1990s. Dave was charged for possession of child pornography in 2011 and again in 2012.