The Diesel Caravan is a 1995 Dodge Caravan with a VW diesel engine and a manual transmission, as well as random parts left over from an automatic, and instead of a Caravan badge, it has Grand Voyager badge on the rear that was sent by a youtuber. Dave joked about the leftover automatic parts; "A manual for those with the balls, and an automatic for those who dont want to shift gears or for the pussies." A similar vehicle, the Diesel Voyager, a 1990 Plymouth Voyager with the same type of engine only it came stock with a manual transmission. This van came stock with a 3.0 litre V6, but the other 1990 van came with a non-turbo normally aspirated 2.5 litre 4-cylinder.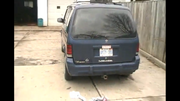 dave you should put a diesel in that 2002 van you have
Ad blocker interference detected!
Wikia is a free-to-use site that makes money from advertising. We have a modified experience for viewers using ad blockers

Wikia is not accessible if you've made further modifications. Remove the custom ad blocker rule(s) and the page will load as expected.