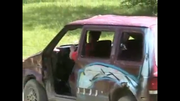 The Floppy Cock vans are two Dodge vans owned by Dave.
One of them is a full sized 1977 Dodge B-series Royal Tradesman wagon with a 225 Slant 6 and a 4-speed manual, while the other is a 1992 Dodge Caravan LE with a V6 engine, automatic transmission, and all wheel drive. Both vans are a burgundy color, missing doors, and covered in graffiti.
Ad blocker interference detected!
Wikia is a free-to-use site that makes money from advertising. We have a modified experience for viewers using ad blockers

Wikia is not accessible if you've made further modifications. Remove the custom ad blocker rule(s) and the page will load as expected.