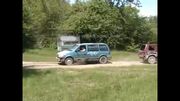 Shit Blue Van is a 1992 Chrysler Voyager SE with a Mitsubishi 3.0 V6. It originally was just a stoc van, but later on lost a door in Hide and Seek, got spraypainted with graffiti all over (like the Floppy Cock vans), and had a BBQ grill added. With those modifications they started to call it the Taxi Van until they rolled it off Sky Hill and destroyed it. The new Taxi Van was a 1997 Dodge Grand Caravan acquired by Rick who broke a part on a test drive.
Ad blocker interference detected!
Wikia is a free-to-use site that makes money from advertising. We have a modified experience for viewers using ad blockers

Wikia is not accessible if you've made further modifications. Remove the custom ad blocker rule(s) and the page will load as expected.