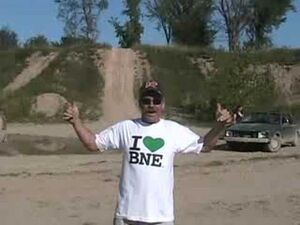 Sky Hill is a hill which visitors jump and trash cars on. It also has chairs on top which Dave sits in drinking beer naked.
Daves favorite vehichle. Dave owns a 1989 Dodge voyager se his 95 Diesel converted caravan his 2002 caravan of course his old 87 Aries and the 35 mercedes. he love his diesel van, i dont know why he loves the older version of the caravans and voyagers. once in a while he takes his 2002 van. and he loves that fast aries, he likes fast cars but he would rather drive his feul efficiant minivan that he always has sitting in the driveway. with the aries sometimes he 
likes to get that car goin and drivin home with it. he does enjoy driving the diesel now a days that gas prices are so high. he sometimes drives his blue 89 van around but he wouldn't wanna drive a blue voyager van all the time because he likes to save money on gas. and he's already got 3 lisenced vehichles on the road. i think he should get his blue voyager van road legal. Dave i love your vids. once i meet you. we have got to get it on the road we will get it running and drive it around 
Ad blocker interference detected!
Wikia is a free-to-use site that makes money from advertising. We have a modified experience for viewers using ad blockers

Wikia is not accessible if you've made further modifications. Remove the custom ad blocker rule(s) and the page will load as expected.